Overview: Many professionals are responsible for developing new business.  However, most of them do not consider themselves "salespeople".  This assessment was created to help non-selling professionals to develop more business.
Description: Extended DISC® Business Development Assessment is designed to help non-selling professionals to develop more business by providing very pragmatic and easy to use information to modify behaviors. The reports can be tailored to focus on behaviors specific to your needs.  Our clients commonly include sections such as: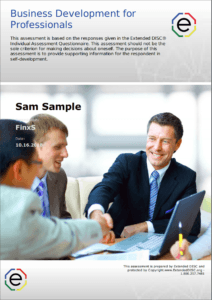 How to identify potential clients' preferences
How prospects perceive the individual
How to communicate, motivate and influence potential clients
Reactions to pressure
How to improve success
What to avoid
How to develop successful relationships with clients
How to move business relationships forward
What not to do with different styles of potential clients
Recommended for: CPAs, Attorneys, Architects, Engineers, Programmers, Realtors, etc.
Support tools: At Extended DISC we offer our clients extensive support. Some of the most popular support materials with this assessment are:
To get a sample report, demo Extended DISC® or to just learn more about us, please complete the form on the right.