Extended DISC Original Money Jar Winner from the 2019 ATD Expo is…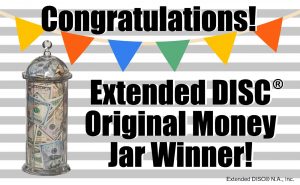 Nyla Mundt from OneWeb! Nyla guessed the correct money jar amount of $1,007.00 at the 2019 ATD Expo!
Thank you to everyone who visited Extended DISC® assessments at the 2019 ATD Expo in Washington D.C. last week!
Be sure to stop and visit Extended DISC® at Booth 1235 at the Las Vegas Convention Center during the SHRM 2019 Annual Conference and Exposition from June 23rd to June 26th for a chance to win all of the cash from the Extended DISC® Original Money Jar! You could be the next person to win!