Description: Extended DISC® Reinforcement Reports are designed to reinforce your client's ongoing DISC training. These brief and simple reports focus on specific targeted areas, so your clients keep practicing DISC self-awareness and modifying their styles to achieve success.
Your clients do not need to take any additional to order these reports and you determine which reports to use and when to use them! Below is a sampling of our Reinforcement Reports:
Maximizing Your Strengths and Attributes
My Negotiation Style
My Decision-Making Style
Handling Pressure Situations and Stress
Stress and Time Management
My Time Management Style
My Communication Strategy
My Team Member Style
Maximizing on my Motivators
Behavioral Action Plan
Recommended for: Using after your clients have received their Individual Assessment results and gone through a DISC session.
Support tools: At Extended DISC we offer our clients extensive support. While these Reinforcement Reports are support tools in themselves, some of the most popular support materials with these reports are: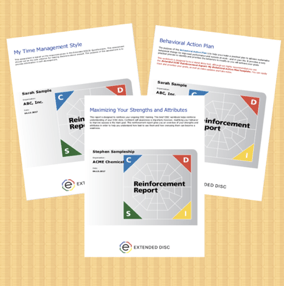 To get a sample report, demo Extended DISC® or to just learn more about us, please complete the form on the right.