Extended DISC® is a suite of validated online DISC assessments, also known as DISC personality tests.
When you know what our DISC Assessments can offer you, whole new worlds can open up. You need to really know who you are. Once you do, you need to make changes in order to see the success you are looking for. With that in mind, you can use the results to better your daily life and the lives of the people you interact with. What you know about yourself and your behavior goes a long way toward how you act.
Taking the DISC Assessment
The process is simple. First, contact us to set up your account. Once we set you up, simply email an invite to your clients. The email contains an Access Code and link to our secure assessment website to take the DISC test. We have an email template containing brief instructions that you can fully customize. Your specific Access Code identifies whom the DISC profile data belongs to, what type of DISC Assessments are generated, and where the DISC reports are emailed.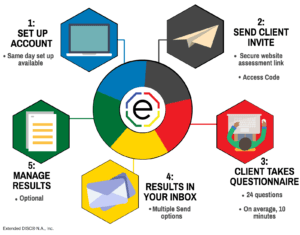 Clients have 24-hour access to the assessment site. By answering a brief set of questions, you will be well on your way to greater self-awareness. It's just 24 questions, and your answers will create your DISC profile. Respondents typically take about 10 minutes to complete the online DISC test. Once your client completes the assessment, the DISC profile results are emailed right away! Results can also be sent to more than one person including coaches, respondents, and managers.
In addition, the DISC test is available in over 65 languages. Research show respondents who answer the questions in their most comfortable, native language generate results with higher validity.
The DISC Questionnaire
You answer each of the 24 questions twice. You choose one set of descriptor words that describe you the most and one set that describes you the least. Our system looks for a pattern of response—how often do you select one of the 4 DISC types over the other three? The key is to identify if the person can establish a pattern of answering and can he/she follow it in a consistent pattern throughout the DISC questionnaire. It seems simple enough right? However, the questions are interrelated in a way that is not easily evident.
It is a self-assessment, but it can be challenging. If the questions were easy, a person could easily adjust the answers in a desired way. Hence, it would no longer be measuring the hard-wired natural behavior. You cannot force the results by changing one single answer. This is an important reliability feature of our DISC Assessments. In order to have any major impact on the results, respondents would need to completely change their answering patterns.
What Does DISC Measure?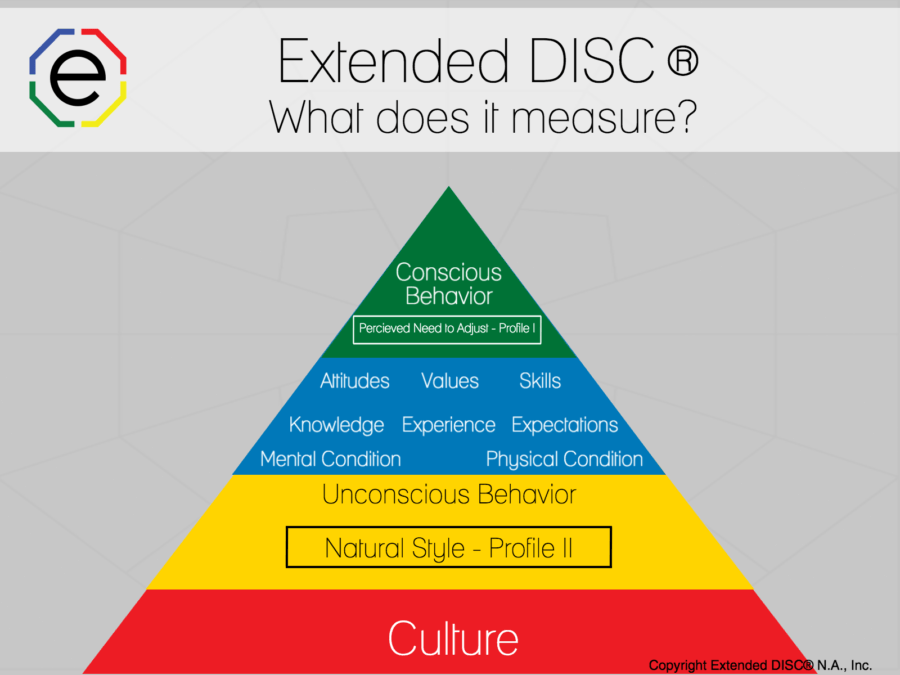 DISC focuses on behaviors. It measures your patterns of behavior or how you naturally prefer to do things. DISC does not measure knowledge, skills, attitudes, experience, mental health, or values. DISC places no value judgment on your results. You are who you are. You do not need to change who you are. However, the goal is to make temporary and effective adjustments to your behaviors. Your self-awareness and ability to modify will make you more successful.
DISC is a tool that helps improve interaction. The DISC results can provide supporting information in self-development, but it should never be a sole reason for making decisions about a person. While it's sometimes called a personality assessment, it does not measure a complete aspect of one's personality. The basic DISC model identifies only sixteen behavioral DISC styles. Our DISC tool recognizes 160 DISC styles, which help us better classify people.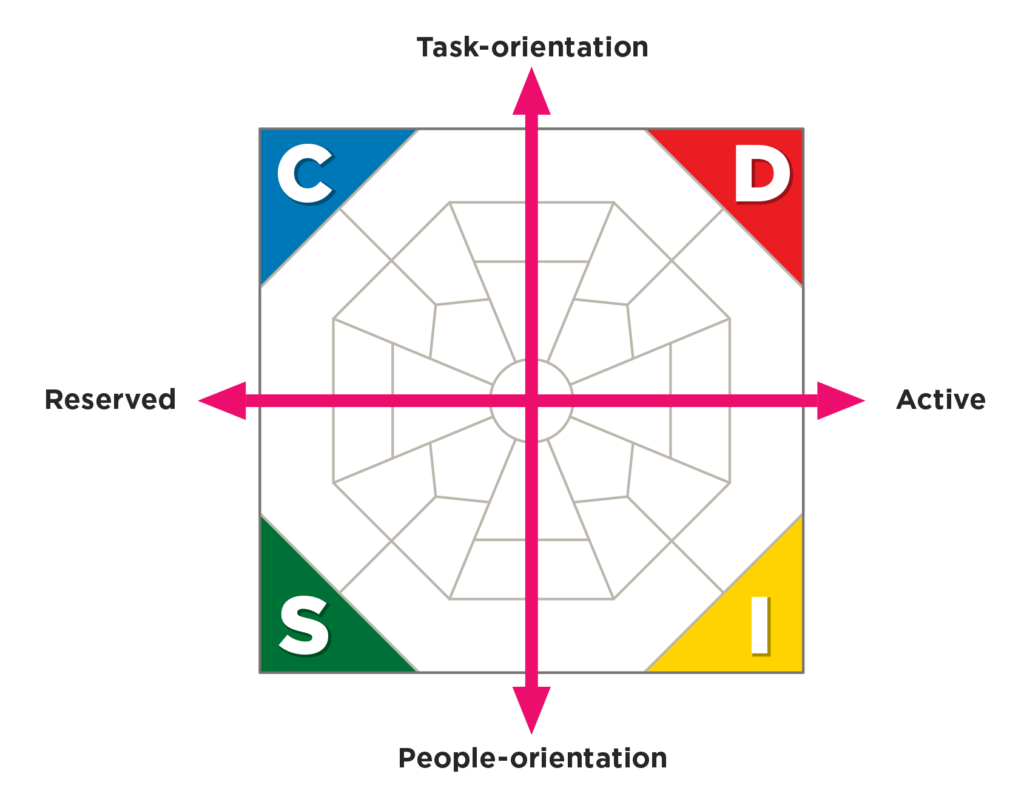 The DISC model classifies 4 behavioral styles, also known as DISC profile types or DISC styles:
Most of us are a combination of DISC profile types. In fact, 99% of all people who take our DISC assessment have more than one style that is comfortable to them.
Understanding DISC Assessment Results
DISC assessments are based on the DISC model. However, not all DISC tools are the same. There are some DISC tools that only measure your conscious style.
Our DISC tool measures your conscious style, but more importantly, your hard-wired natural style.
Why don't all DISC tools measure both? It is more challenging to be able to develop a validated DISC tool that truly can measure your natural DISC style, whereas, it's much simpler to measure conscious behaviors. Conscious behaviors are how you want to do things.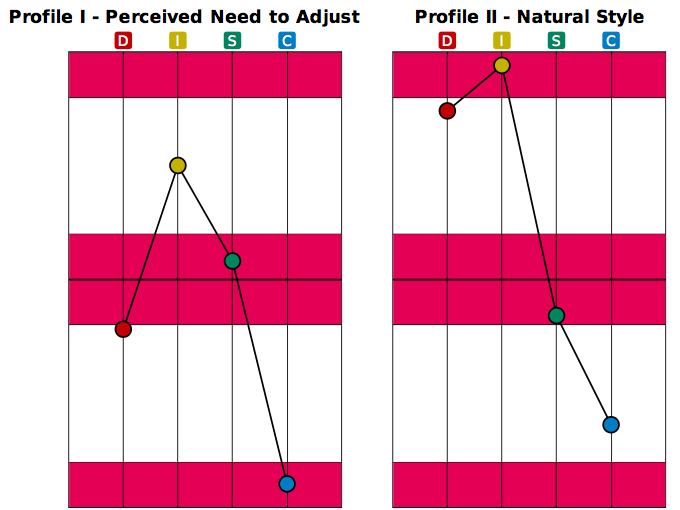 One of the first places many DISC coaches tend to go to in the DISC report is the DISC Profiles. Understanding your DISC profile are visual pictures of your DISC style. If you know your DISC style then it can help you to interact better with others.
Natural Style DISC Profile
Your natural DISC style is most closely related to your unconscious behavior. You don't have to think about these behaviors. You behave more effectively over long periods of time because it requires the least amount of energy and is the least stressful. Your natural style remains fairly stable, but not rigid, over your adult lifetime.
Our DISC Profiles are a visual image of a person's behavioral style. First, look at the Profile II – Natural Style graph above on the right. The graph line represents your DISC style. It intersects at all 4 DISC axes. Your natural style is determined by where your DISC profile intersects the axes in the top half of the graph. The Profile II – Natural Style sample shows a person who has intersect points at the I and D axes. Hence, this person's natural DISC style is "ID".
You can apply the results to various settings once you've identified your DISC profile. The DISC report can show how people may respond to pressure, function on a team, or prefer to manage. The DISC report is highly focused on your Natural Style since it is the style that tends to show up in you. Ultimately, we have all 4 DISC styles; it's just that some styles are natural and some simply take energy and focus.
Perceived Need to Adjust DISC Profile
Your Profile I – Perceived Need to Adjust graph is above on the left. Profile 1 is your changing profile. It reflects your role or current environment. Your adjusted style shows how you believe you could adapt your natural DISC style in order to become more successful. You can think of it as a snapshot of the time at which you took the DISC test.
You always need to read your Profile I – Perceived Need in comparison to Profile II – Natural Style. The change between the two Profiles shows how a person feels he/she needs to adjust. He/she may feel the need to emphasize, downplay, or not make any adjustments to a specific DISC profile type.
You may need additional training to read the DISC profiles even though the Profiles images do make it easier to understand your DISC style.
DISC Assessments Beyond DISC Profiles

Our DISC Assessments are built on the 4 Steps to Effective Communication. DISC coaches find it easy to build their DISC workshops and coaching sessions using the 4 Steps. Step 1 is to understand DISC. Step 2 is to understand one's own DISC style, which allows for Step 3. Once you know your style then you can identify the styles of others. When we've identified the styles of others, we know what adjustments we can make to our own style. The most important and final step is adjusting our DISC style to improve our daily interactions. The DISC report has specific tips on the types of adjustment you can make to improve interactions with the others. These tips are based on your unique DISC profile.
You can also compare the two Profiles to gain insight into a person's emotions. The DISC Profiles may be able to show you what the person may be feeling at the time of the questionnaire. For example, is he/she feeling stressed, uncertain, or pressured to change? In addition, the results can also help us to define the present setting's influence on the person's motivation. This can be vital information both for the individual and the organization.
We have various DISC reports to fit the needs of your diverse clientele. In addition, our DISC Assessments present a person's DISC style in different settings. Coaches often have preferred sections in the DISC Assessment. You may prefer to focus on a person's key motivators, strengths, decision-making style, etc. In addition, you can also use specific reports like the Manager's report to help managers can improve their ability to manage. DISC offers options so individuals and companies can use it in the most effective way.
DISC Assessment Samples
Here are just a few samples of our DISC Assessments.
The Individual Assessment is a standard report for Self Development. If you are uncertain which report to use then this is the best report to start with.
Sales people will find the Sales Professional Report useful in his/her self-development. Sections include tips on improving your sales success based on your DISC style and your natural sales behaviors.
The Leadership Report is designed for managers and leadership to become more self-aware and better leaders. Sections include your Leadership Profiles, How You Lead, How You Motivate, etc.
The Team Report is a multi-person report which shows the dynamics of the team as a whole. Team members can easily read and understand the team maps. People do not have to take another DISC test to create the Team Report.
Why Choose DISC Assessments over Other Personality Tests?
DISC measures behaviors or 'what you do'. How do you prefer to go about the day without any external pressures? What's your most comfortable or preferred ways of doing things? DISC focuses on our natural behaviors because they can be adapted, even if it is challenging, to improve interactions. Personality tends to be more than behavior. Personality can show how we tend to behave, but also think and feel in our own unique way. It is much more challenging to create tools that measure one's personality and even then, harder to use the results to improve ourselves.
All DISC assessments are not created equal. We offer more options to present a person or team's DISC profile in the most relevant DISC report format including customization and branding of DISC Assessments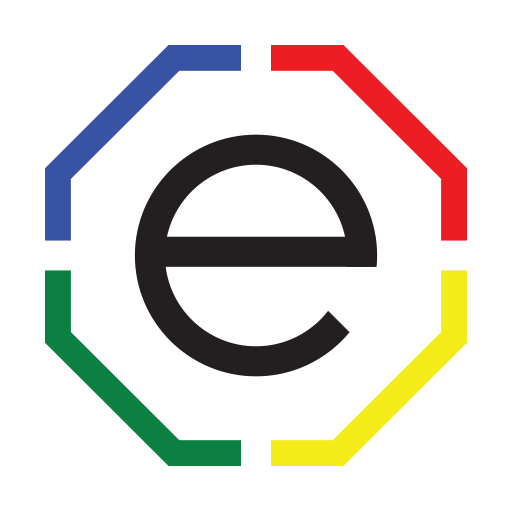 Many of our clients love the array of reports we already offer without any changes. The look and the content of the report can both be customized, with an array of choices that can work for everyone. Do you prefer to keep it simple? Do you need specific content to align with your company's vision? Tell us what you need and we can show you how to design the best product. A customized report can better tell a person where any issues or concerns actually lie. The greatest power of our DISC tool lies in its validation and flexibility.
Our DISC Assessments give you the freedom to create, view and modify content, order reports, and access support products. We can even create multi-tool reports that combine behavioral assessments with surveys and Open 360 feedback. Our new DISC tool provides an exciting new platform for coaches, trainers, business consultants, HR specialists, and organizations. It is the new standard in behavioral and personality assessments.
DISC Assessments Create Multiple DISC Reports
In addition to receiving people's DISC reports, you can also combine them to generate multi-person assessments. Our team report combines DISC profiles into one report without making your clients take another DISC test. You can gain insight into the dynamics between team members using concrete data and easy to understand graphics. In addition, the team maps provide an simple and common language for complex issues, even when there are diverse DISC styles.
Team members, managers, and leaders can use the team report to assess the team. They can look at gaps and strengths of the team. The Team Maps are a simple and visual tool that can provide insight into team pressures. Many clients use the team report to improve communication and make informed, useful changes toward resolving underlying conflict.
You and your company can use DISC to find people who are better suited to certain job roles. Managers can motivate their staff and identify settings for their staff to succeed. In short, DISC does not focus on just one person. We do a large amount of work in groups and teams. It can be used to focus on an aspect of a company. For example, is more support needed for a certain team to work better as a unit based on identified gaps? Changes may need to be made to improve the company as a whole.
Using DISC Profiles Beyond DISC Assessments
You are not tied to just the DISC reports. You have access to our executive dashboard, an incredibly powerful, real-time Organizational Development tool. Our clients can view their database, reorder reports, create team reports, customize reports, etc.
DISC profile data can be used beyond looking at your DISC date in a report format. You can view your DISC data in the context of teams, departments, and even companies. Do you have a high turnover rate in your company? Are there certain DISC styles that tend to leave? Do you have groups that perform at a higher level than the rest? What's the group's DISC style? The more information you have, including using DISC profiles, the more likely you will have answers and make better decisions.
DISC is vital in that it offers a way to better know your employees. DISC profiles can be a valuable tool when it comes to placing a person in a certain role or pulling together a team. In addition, managers may understand why their team seems to have so trouble working together. Maybe something as simple as changing a few people around on different teams would be enough to make the department more effective.
Our DISC Tool is Validated
The history of DISC began in the early 1920s. Our Extended DISC tool has been around since 1994, but it took years of research and groundwork to develop a powerful DISC tool. We stand behind our DISC tool. In order to maintain our high standards, we use the University of Oulu to validate our tool on a regular basis.
One of the strengths of our DISC Assessments is that we will not produce a report if we cannot clearly identify a person's DISC style. We never generate results unless the results are clearly valid. You don't want results that could be misleading. This situation is called an "invalid profile". There are different reasons for invalid results, including overthinking, second-guessing, rushing, distraction, etc. The underlying reason for an invalid profile is that the person did not respond consistently to the 24 questions. As a result, it is not possible to identify the person's style.
DISC Training Options for our Clients
Join our expanding group of highly successful coaches and consultants worldwide. Our DISC training options give you the confidence to help people and businesses grow. Learn to unlock the full potential of the DISC tools and system with training in the DISC. You are not required to become certified but it is recommended. We offer virtual, public and onsite certification.
Special Pricing to Suit Your Needs
When you become an authorized affiliate you have access to the best pricing and support in the industry. You may also find our Unlimited Use License to be a great value and asset to your company. You would have unlimited use of DISC Assessments for a fixed fee. Hence, it's easy to stay within budget and you do not have to worry about paying for every assessment you use.
Government Agencies
The FAA, CDC, U.S. Fish and Wildlife, The US Marines, and other government agencies widely use our DISC Assessments. We work with a wide array of cities, counties, and state agencies. We offer special pricing for government agencies.
Non-Profit and Educational Organizations
Churches, universities, health care agencies, and other non-profit groups use our DISC Assessments. We offer special pricing for non-profit organizations. School programs use assessments on students, (high school, undergraduate, and graduate) faculty, and staff.
Business Organizations
We are DISC providers to all different sizes of companies; some with over 100,000 employees! Extended DISC® provides business organizations with the tools they need to use our assessments and support materials.
The Best Customer Service in the Industry
We pride ourselves for the best client support service in the industry. Don't take our word for it; see what our clients have to say below! We have up-to-date training materials, senior trainers, and project managers to make sure you have what you need to deliver DISC. In addition, we offer our clients access to our online DISC Resource Center which provides training materials, DISC exercises, sample reports, blogs, and so much more!
Contact us to learn more today!
Just a Few DISC Testimonials
We work with hundreds of global training, consulting, and coaching companies to provide the best tools and support materials for their clients. Here are just a few of the client feedback we receive.
"Finally, our assessments provide results for behavioral change – not just analysis reports. Extended DISC® assessments are pragmatic, concise and easy-to-use. They provide a practical model that improves individual, team and organizational performance."
"We've enjoyed a wonderful relationship with Extended DISC®, utilizing their robust tool set and superior customer service. In this age of assessments, we appreciate the importance of having an effective strategic partner as we integrate, interpret and communicate the assessment process to our customer base. We explored many options, but chose Extended DISC® – certainly one of the best decisions that we have made. Our field of 600 trainers will confirm that Extended DISC® customer service is far superior to any other outside relationship that we have experienced. We're proud to be part of Extended DISC®."
"Extended DISC® has become an essential component of our leadership development toolkit at the Krannert School of Management, Purdue University! Students have found insights gleaned from their use of the tool to be immediately applicable in their work with study teams and clubs. Additionally, our staff has found the unlimited student license to be of real value. It allows us to offer the Extended DISC® assessment to a wide audience of students. Finally, the Extended DISC® facilitator training was not only useful in equipping us to better utilize the tool, it was also a fantastic professional development opportunity for the staff that are now certified facilitators. The facilitator training and customer service we have received from Extended DISC® are top notch!"
– Jennifer Bennett, Director of Personal and Professional Leadership Development at the Krannert School of Management of Purdue University