Overview: Studies have shown that many health care systems around the world are emphasizing a need for more patient-centered care. Treating the patient as a whole person and the way they want to be treated is an important aspect of healthcare.
Description: Extended DISC® Healthcare Professional Assessments are tailored for healthcare organizations and job roles making the assessment relevant, accessible and applicable for healthcare professionals. The assessment provides a roadmap to:
Identify and understand patients' needs
Modify your behavioral style to meet the patients' needs
Improve communication with patients and co-workers
Improve teamwork to improve the overall level of patient care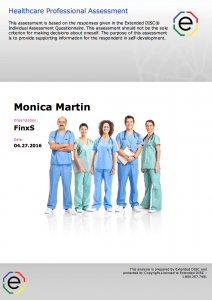 Recommended for: anyone working in the healthcare industry and interacting with people.
Support tools: At Extended DISC we offer our clients extensive support. Some of the most popular support materials with this assessment are:
We have seen a noticeable difference in many of our internal teams as well as a noticeable improvement in communication and team cohesion since we've utilized the Extended DISC® tool.

-Anne Dorobis
Director of Organizational Development and Training
NYU Winthrop Hospital
To get a sample report, demo Extended DISC® or to just learn more about us, please complete the form on the right.