Overview: Our Remote Worker Self-Study Workbook is designed for people working remotely. This Remote Worker Assessment is beneficial to both employers and employees. The purpose is to help them create a work environment and processes that best support their strongest behavioral traits.
Working remotely or virtually comes with different situations and requirements than working in a traditional work environment. We have both physical and often a psychological distance to the rest of the organization. Communication with others is different. The requirements placed on the employee to schedule, organize and manage the work day are different than in a conventional work environment.
Description: Remote Worker Self-Study Workbook is a self-paced, self-guided assessment and workbook that helps individuals to become successful in remote work and to create a work routine that works best for them. We want you to not only to succeed in your remote work but also to enjoy it. The more you are able to adjust your routines, communication and the way of working to match your natural behavioral style, the more comfortable you feel working remotely. Some of the sections are:
My DISC Style
Self-Directiveness
Self-Discipline
Self-Motivation
Self-Communication
Self-Care
My Attitude
My Trustworthiness
My Adaptability
Communication – How To Communicate With You
Communication – How To Communicate With Your Team
Communication – How To Initiate Communication With Others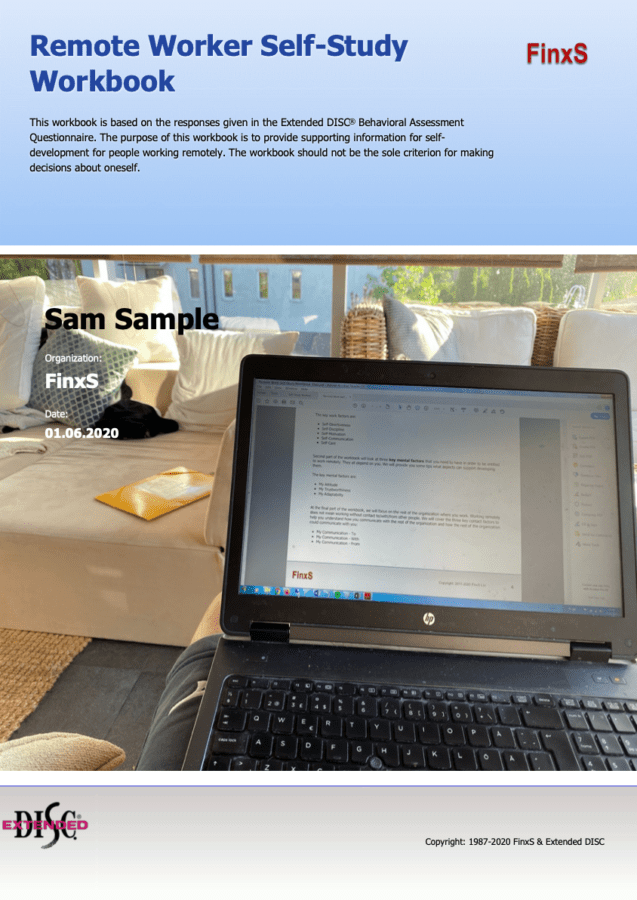 Recommended for:
Remote/virtual employees
Individuals seeking self-paced professional and personal development
Individuals who need reinforcement DISC training
Young adults and students
Companion assessments:
Support tools: We offer our clients extensive personal support and support materials. Our clients also have access to our team of coaches and client support specialists.
Related Blog & Webinar:
Remote Worker Self-Study Workbook Webinar
Remote Worker Self-Study Workbook Blog
To get a sample report, demo Extended DISC® or to just learn more about us, please complete the form on the right.