Can they think on their feet? Are they effective problem solvers? How Reasoning Analysis tools help you answer those questions.
Did you know there's a strong link between high cognitive ability and increased job performance? One of the best predictors of abilities to succeed in bigger, complex job roles is cognitive ability. But, how do you measure it?
FinxS® Cognitive Ability Assessments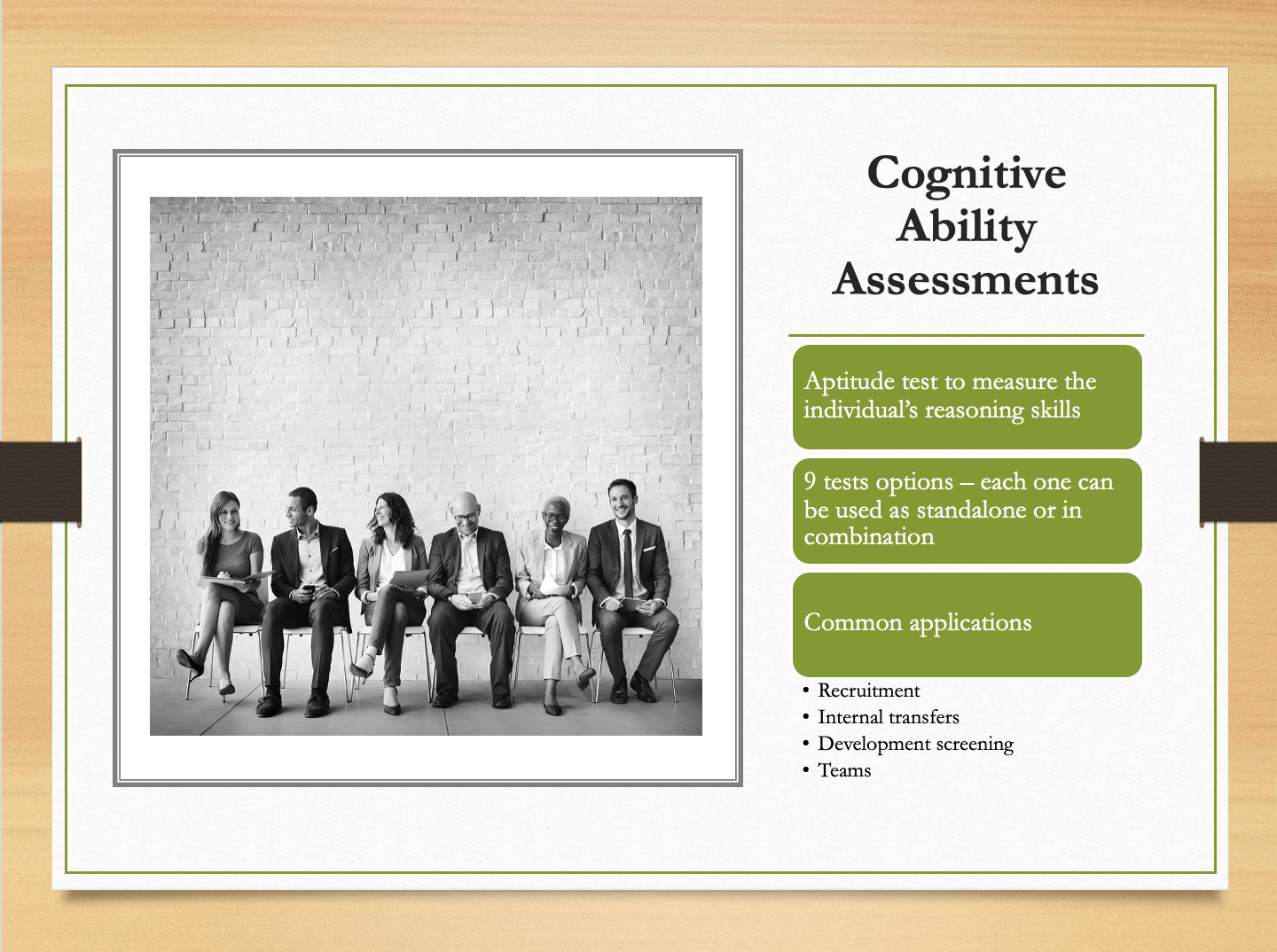 Typically, reasoning analysis tests, also known as cognitive ability assessments, are aptitude tests. They are often used in recruiting, career development and placement into the right jobs and teams. They measure a person's speed (ability to answer in a timely manner) and accuracy (correct answers) in relation to thinking and reasoning.
Each test can be used as standalone or in combination. In real life, you're not likely to use all nine tests at one time. Some tests cover areas you may not need to measure. While it's possible, it is not recommended to do all nine assessments in one sitting. It would likely be exhausting and challenging. So, how do you choose?
The nine assessments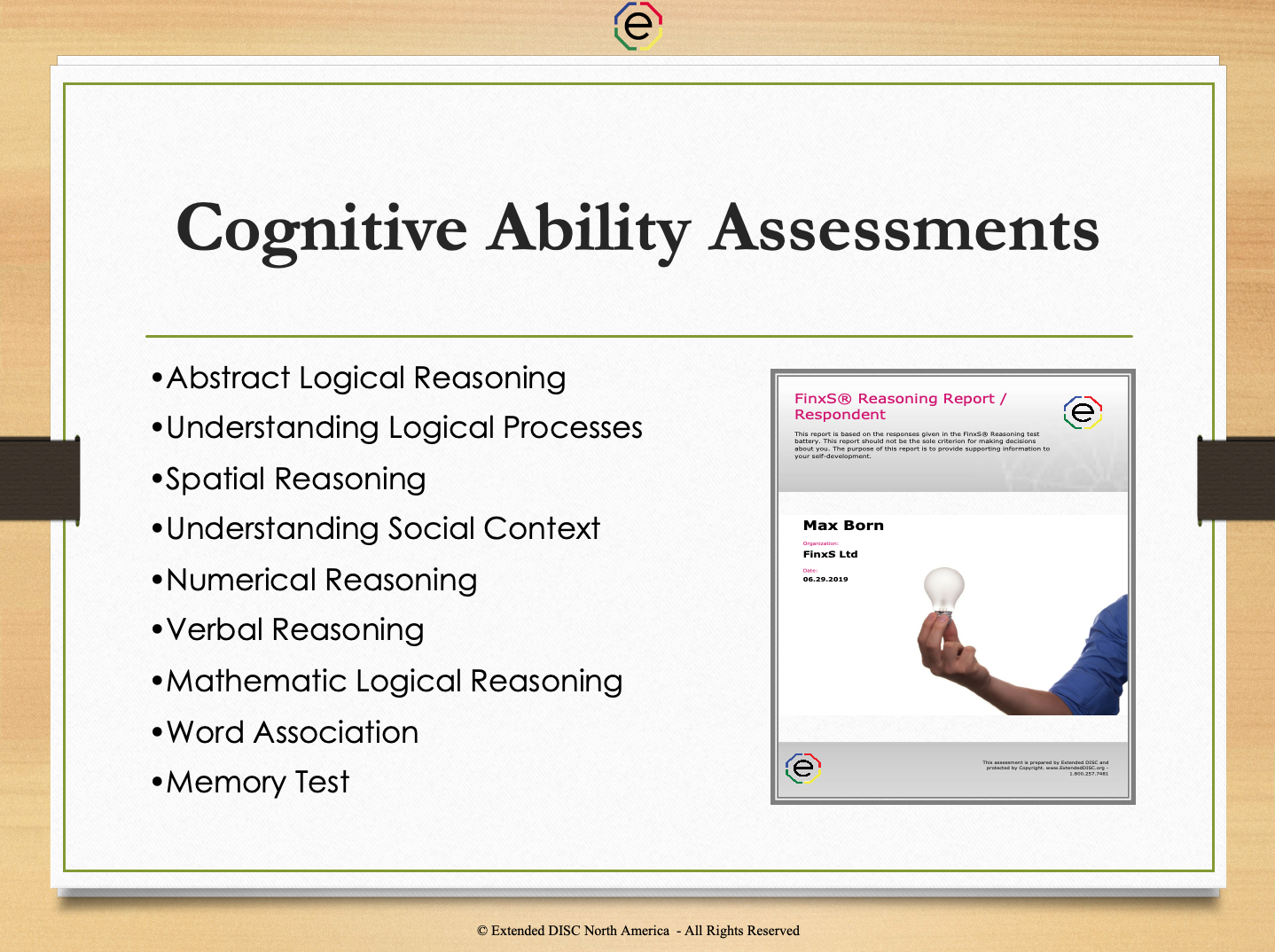 There are nine different FinxS® Cognitive Ability Assessments available.
Abstract logical reasoning — Measures a person's ability to understand different concepts and identify their interrelationships. It is often used for construction, information technology, business development, and programmer roles.
Logical processing — Analyzes a person's ability to understand cause-effect relationships. It is commonly used for computer programmer, criminologist, data analyst, and detective roles.
Spatial reasoning — Measures a person's ability to comprehend visual entities and their components. It is commonly used for graphic designer, cartographer, architect, and interior designer roles.
Social reasoning — Measures a person's general sensitiveness to observe a social phenomenon. It is commonly used for sales, human resource, counselor, and human relations roles
Numerical reasoning – Measures a person's ability to spot relationships and patterns in numerical information. It is commonly used for research analyst, accountant, and resource management roles.
Verbal reasoning — Measures a person's ability to understand written information, conceptualize it and find causal relationships. It is commonly used for journalist, lawyer, editor, and public relation roles.
Mathematical logical reasoning — Evaluates a person's ability to interpret and criticize statistical information. It is often used for accountant, data analyst, and market research analyst roles.
Word Association — Measures the ability to rely on written information to understand relationships between different concepts. It is often used for journalist, marketing analyst, politician, and negotiator roles.
Visual memory — Measures a person's ability to remember and process relevant visual information. It is often used for architectural design, graphical planner, research interviewer, and investigator roles.
Each test has a varying number of questions and different time allotments. When people are ready to start, they will read the instructions and complete a practice question.
How do I decide which one to use?
All the tests are clearly defined, but having a explicit idea of the job requirements should be a first step. This is key to identifying which test best matches to the job roles. What are the critical cognitive abilities an employee must possess to succeed? Scores can then be compared against the benchmark (e.g., top performers in a particular role) which is where the real meaning of the results is revealed.
You can also try it out on some existing employees in similar job roles to help choose which test to use.
Understanding results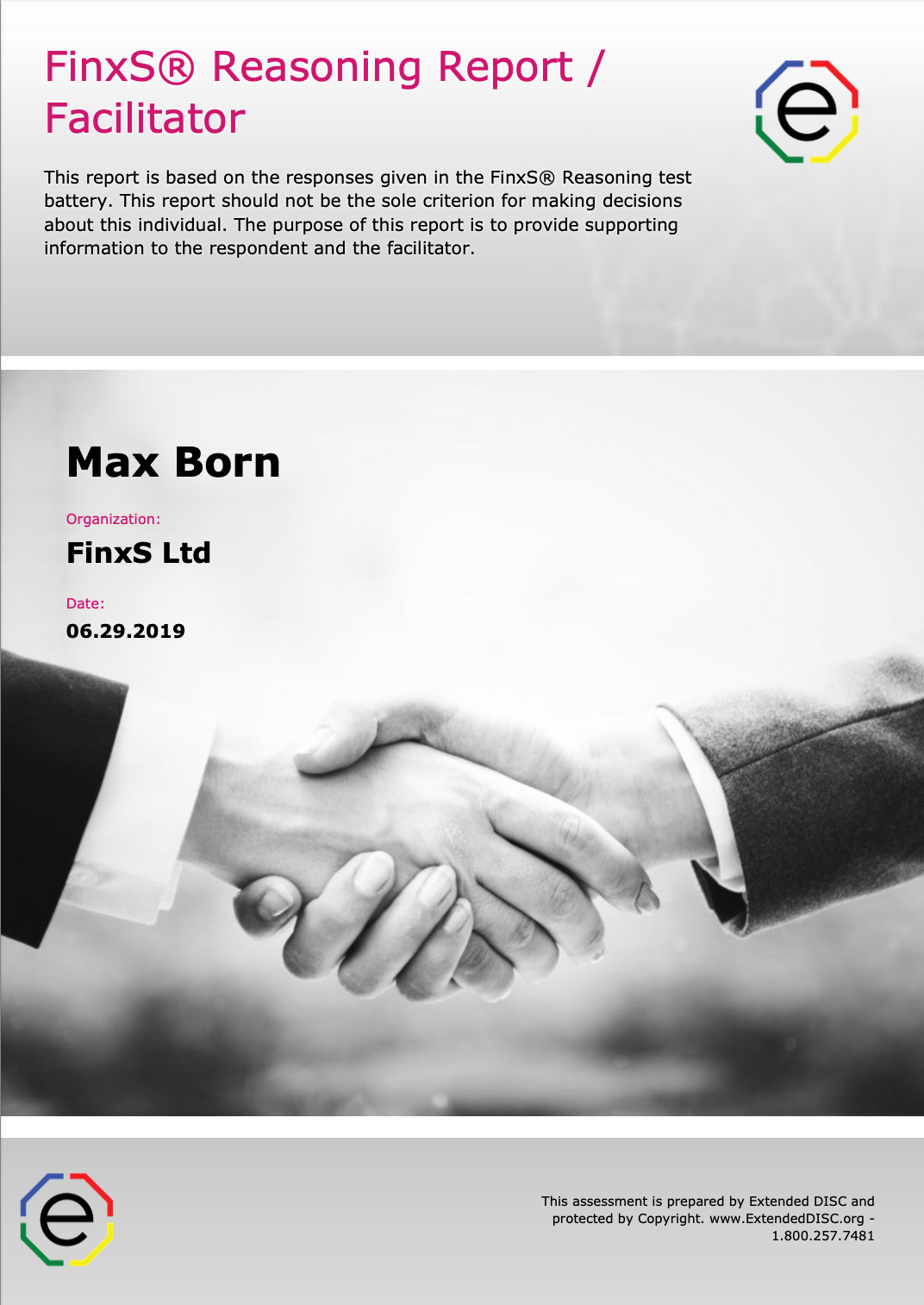 Interpretation and administration is easy. No training is required. The FinxS® Reasoning Report redefines the test and shows the results scored on a 100-point scale. You intuitively know what a score of 65 or 80 means.
Benchmarking enables you to truly understand the meaning of the score. The benchmark population is broken into different normative groups (e.g., 10%, 50%, 90% of populations). So, if the person received a score of 65, are they in the top half or top 90%? Global benchmarks are available, but we recommend using your own internal benchmarks for pertinent data. You can further classify who in your organization is to be benchmarked for this job role.
The report also identifies what a low score and high score mean. High scores typically identify a strong cognitive ability in that area. High scorers can typically perform the ability quicker and more smoothly. However, if the job doesn't challenge them, they may become bored, distractive, and take unnecessary risks. Low scorers may need more time to learn new things and may need further development in that ability.
Combination reports: your ability to combine assessment results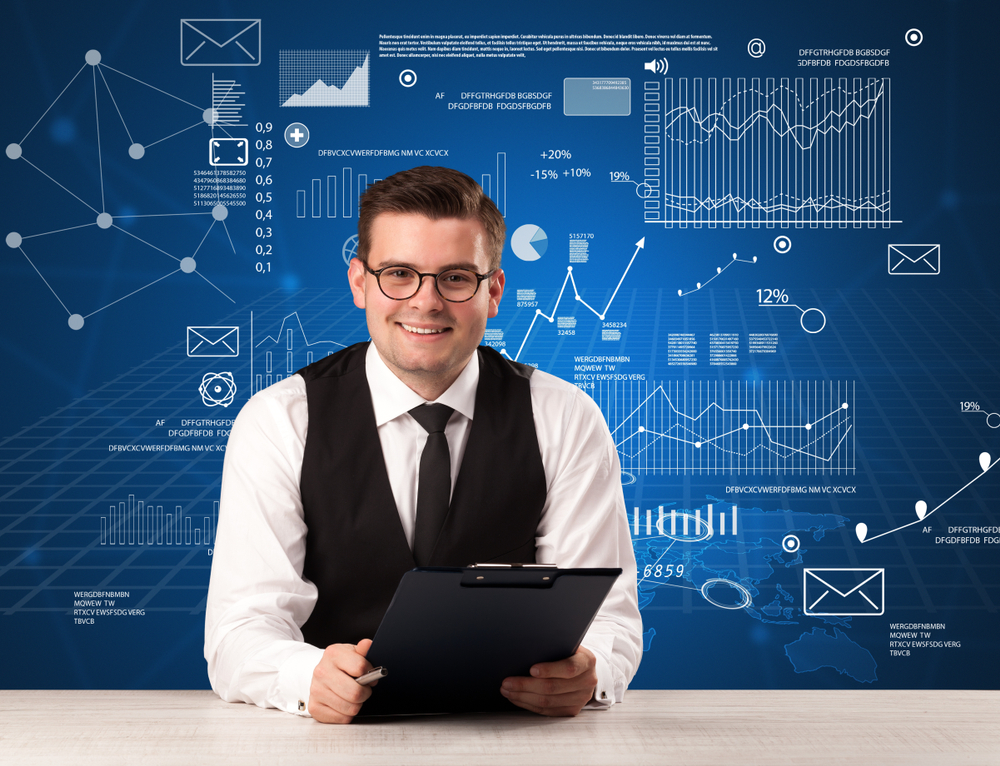 The Cognitive Ability Assessment falls under the FinxS® Assessment Platform, along with Behavioral Analysis, Open 360, Sales Competency, Sports Competency, and Survey tools. This comprehensive platform makes managing your tools easy and convenient.
In addition, you can combine different tool results into one combination report: creating a comprehensive organizational development tool. Let's say you're looking to fill a specific sales role which requires selling a complex product. The person must understand customization options and solve complicated issues quickly.
Different multiple tool results can be combined. You can include the salesperson's sales competences, their behavioral style (how comfortable they are with specific sales behaviors), and identify their cognitive abilities to handle complex issues. You now have supporting data, in addition to their experience and educational background, to make better hiring and placement decisions.
Are you ready? Contact info@ExtendedDISC.org