What's the new 'normal' as your offices are reopening?
Are you sad to be putting away your home office loungewear? Are you trying on your work clothes; albeit a little tighter? It's that time.
Companies are transitioning their employees back to the office. Unlike last year's abrupt switch to remote work, there's more time reopening the offices.
Upon opening, you can assume office interactions will change. Teams may work in hybrid settings. You may have employees, who were remotely hired and have never had a face-to-face interaction with their team. Some team members may return to the office and others may continue to work remote.
There's still a lot of uncertainty happening and more changes to come. How can you help, and possibly even enhance, productivity and connectivity during these times? DISC helps you recognize the different transition needs of your employees. How are they likely to respond to changing environments? How can you facilitate change in ways your employees respond better?
Constant change is now normal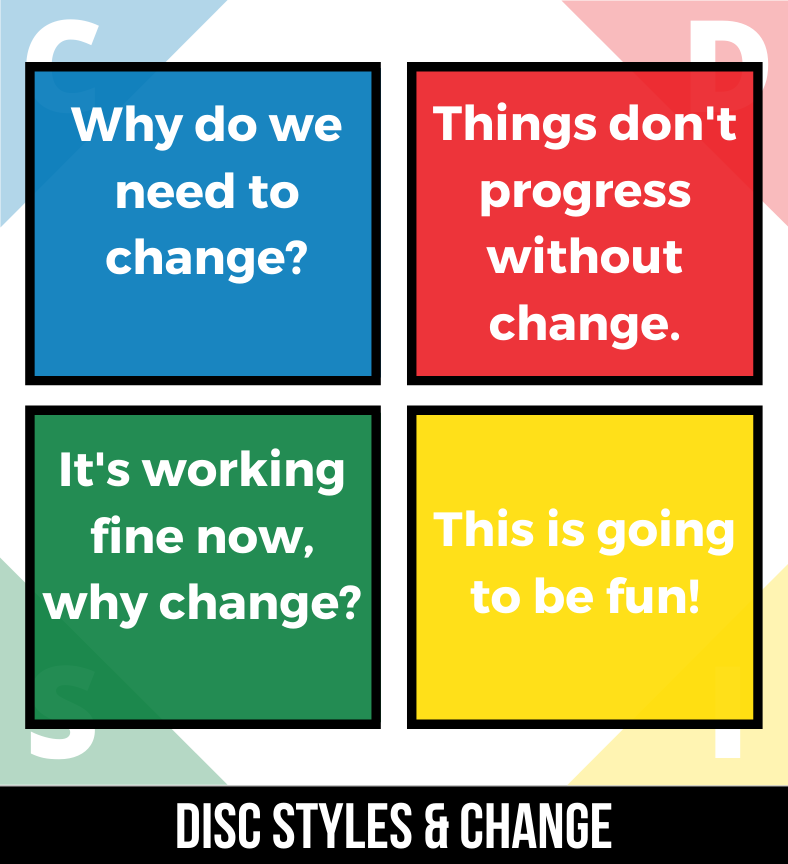 Communication and interactions will change. The new office setting may likely be a combination of office workers, remote workers, and hybrid workers. Virtual meetings and office messaging may be as standard as break room chats.
DISC helps you understand how different styles react to change since it's not the same for everyone. The thought of going back to the office may be thrilling and energizing for some people and for others they may dread the face-to-face interactions. Some miss the hustle and bustle of the office and the ability to get things done quickly in person. Others miss the daily chit chats and opportunities for many interactions. Still, others may need things to slow down and need to be given a clearly laid out plan.
Let's look at styles and change to understand the differences.
D-styles: things don't progress without change
D-styles approach change as good and necessary, 'things don't progress without change.' Your D-styles are more likely to embrace change; simply for change's sake. They may see themselves as a pioneer looking for new opportunities and new ways of doing things. Their competitiveness drives them to be on the forefront of change.
As long as it serves your D-styles in accomplishing their tasks, they will be a 'yay' in returning to the workplace. The ability to network and achieve faster resolutions are motivating factors. They may have enjoyed the independence of working from home; however, ensure they still have opportunities to to make their own decisions and they will be happy. Help them manage the challenges of multi-tasking that works for the whole team. D-styles may need to challenge themselves to adjust their pace of change to support their team's productivity.
I-styles: this is going to be fun!
I-styles will likely be an excited 'yay' in returning to the office, since they tend to view change positively, 'this is going to fun!' They'll be excited to be back at work and have the chance for many spontaneous interactions with their team. They may see it as an opportunity to have more attention focused on themselves.
I-styles can find reasons for motivating their team members behind change and help set the tone for the team. Build in flexibility. Ensure your I-styles have opportunities to network and bring the team together in a fun and positive way. Don't let them get too distracted by all the changes or they may overlook the details and tasks.
S-styles: it's working fine now, why change?
S-styles may feel like they just settled in to the remote work routine; it took a while. They may feel anxious about the change process and may even resist it. They may be the 'ugh' in returning to the office because they have established a remote work routine.
Remember to provide as much planning and direction as possible. Give them time to transition and check in with them to see how they're doing. They may not speak up if something is bothering them. Give them time to bond and build rapport with their team and provide support and guidance one-on-one whenever possible. Their flexibility needs may lie in their work-life balance; do they have clearly delineated flexibility to manage home-school kids or pets?
C-styles: why do we need to change?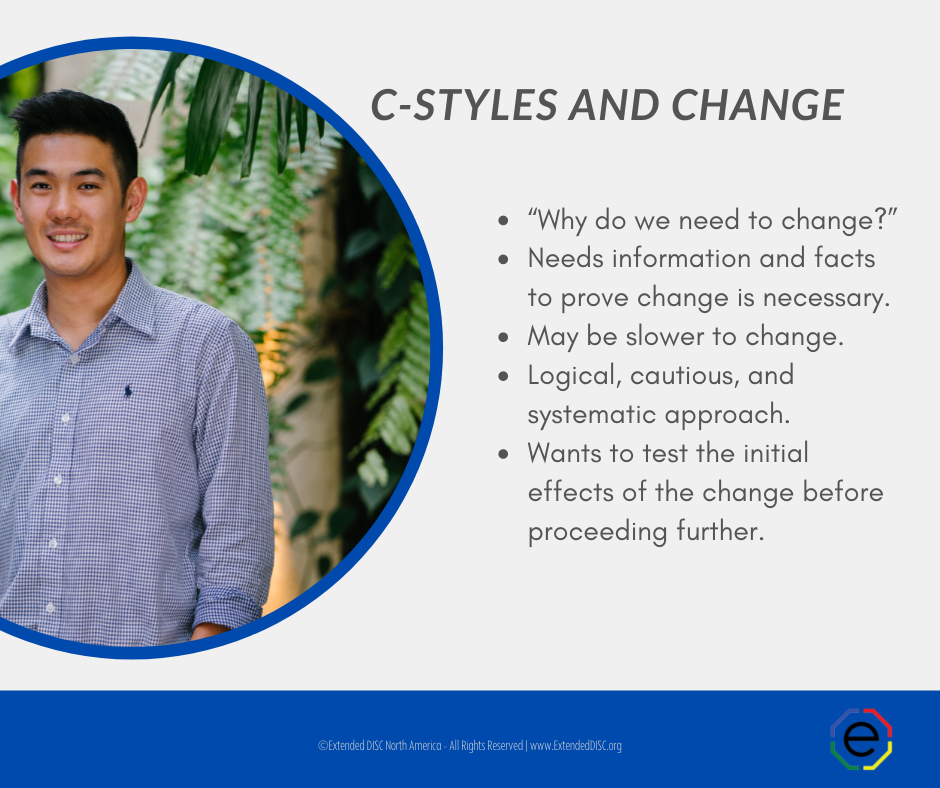 Your C-styles will want to understand why the change is needed at this time. They want information and facts. C-styles, in the face of change, will move cautiously and systematically. They may even want to test the initial effects of the change before proceeding further.
Address their questions carefully. For example, clearly lay out the post-pandemic safety policy; even better if you send it in writing. Provide a schedule and time to transition. Provide clear reasons why returning to work at this time is logical. For example, they have a dedicated space to focus and technology and data may be easier to access.
Supporting office interactions and dynamics
For some it feels like starting over and that can be a great thing or it can feel uncomfortable. Recognizing that each person on your team does not approach change and transition the same way is the important first step. Next, is recognizing what alleviates stress in change situations, and then take the steps necessary to do it.
Ultimately, be kind to yourself. This transition is a step closer to your new normal.